Men's Mental Health Month
June is celebrated as Men's Mental Health Month. We at Project Mumbai would like to celebrate this with you, across June and July 2023.
We aim to create more awareness and outreach on mental well-being–especially of the male gender–and to dispel the commonly spread myth that men feel no pain.
In Hindi movies, we have often heard the line–Mard Ko Dard Nahin Hota.
Our effort is also to talk about this in the open and supporting us are several experts who will be part of some thought-provoking live sessions through our Instagram handle.
Kersi Chavda, Deepak Kashyap and Swapnil Pange, and people of eminence. But more importantly, people you can voice your concerns with.
Our Instagram handle PROJECT_MUMBAI will offer more information at all times as well.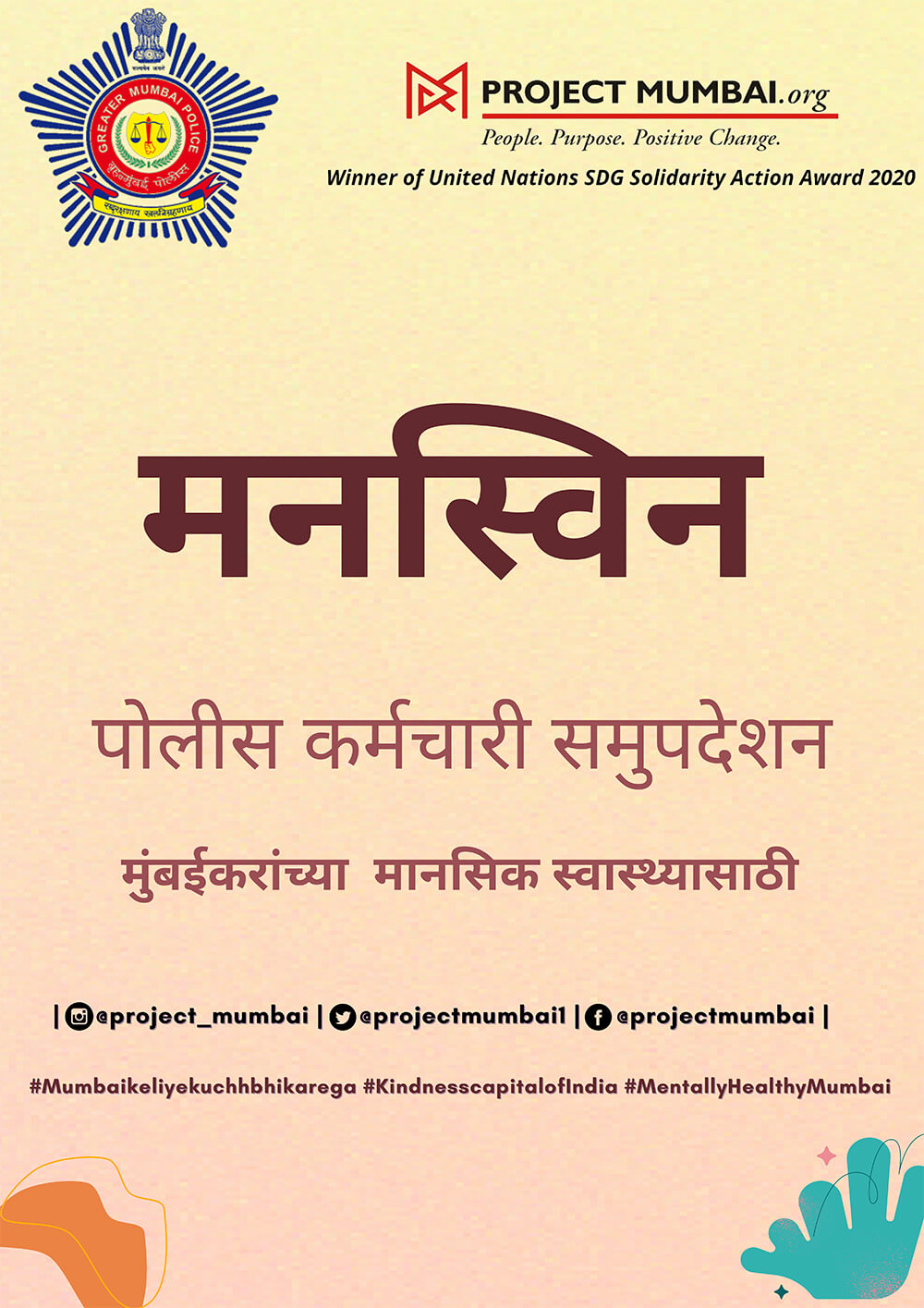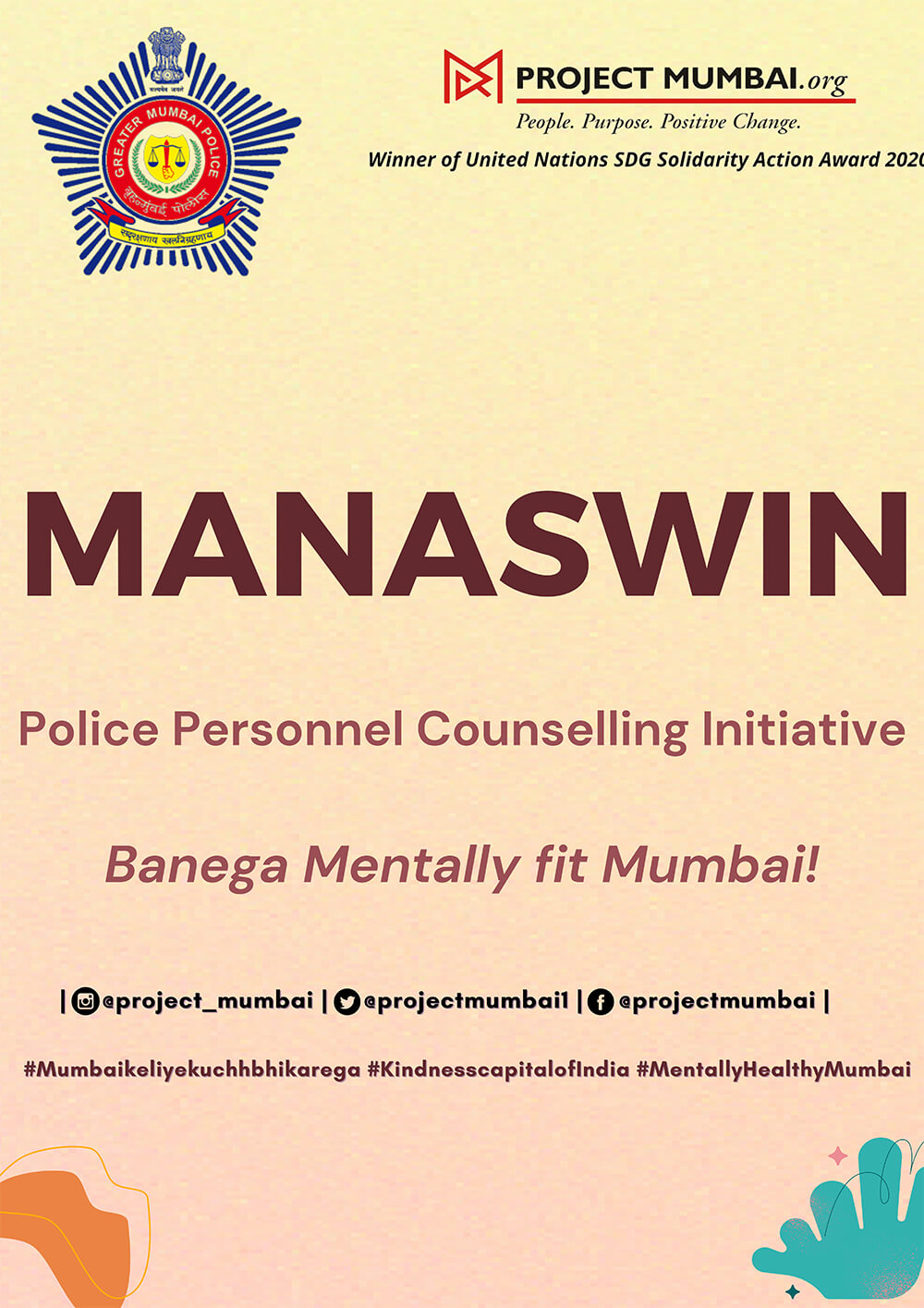 MANASWIN - BANEGA MENTALLY FIT MUMBAI
Considered second only to Scotland Yard, our personnel in khaki–the Mumbai police–has over 30,000 in the force across the 90-plus police stations, including the coastal police. There has always been an emphasis on the physical fitness of the men in uniform. Project Mumbai, in November 2022, partnered with the Mumbai police with a commitment of providing emotional well-being support not just to the cops but their families too.
Manaswin is our initiative to provide emotional counseling and support facilities to these police personnel.

The second phase aims to provide one on one counseling therapy opportunities to those who are recommended or in need.

The third phase is to reach out to families of the personnel, who are often collateral damage to the lifestyle of the police. This would involve the children as well.

The initiative–in-person sessions, both individual and group–would be complemented with Project Mumbai's emotional well-being toll-free helpline SAMVAAD- 1800-102-4040. Trained and experienced counselors would be available from 8 am to 8 pm, ready to attend to queries and concerns emotional in nature, of the callers. The conversations shall remain confidential, as is expected of an ethical service.
Our objective is to reach out to each and every police member and family,  with a vision of providing a safe and non-judgmental space for them to share their discomfort, distress, and dilemmas.
This comes under Project Mumbai's larger agenda of Making Mumbai Emotionally Stronger and Resilient.
We also plan on focusing on family counseling as it helps maintain healthy functional family relationships. It will not just focus on adults but also children within the family who are directly and indirectly impacted by the various disturbing aspects of adult lives.
The Smiling Schools Project
An Initiative by Project Mumbai in Collaboration with the MCGM
Project Mumbai is a Mumbai-based not-for-profit institution engaged in improving the quality of life of people in Mumbai. In February 2019, Project Mumbai signed an MoU with the government of Maharashtra, to create a mental wellness curriculum for adolescents, parents, and educators, thus giving birth to the Smiling Schools Project.

A growing body of research shows that a negative school environment is directly related to poor student attendance. Moreover, it severely undermines students' capacity to learn and dramatically increases the likelihood that they will develop significant psycho social problems over time. On the contrary, students receiving support from their teachers and peers are likely to have positive self-esteem and fewer depressive symptoms.
Nayi Disha: Prison Counselling
Nayi Disha is an initiative by Project Mumbai in partnership with District Central Prison, Mumbai to provide psychological support to people incarcerated in prison and staff of the facility. This is a one-of-a-kind initiative that extends emotional care to people in prison facilities. This project aims to provide emotionally safe places to incarcerated people who might help them reflect and process their thoughts and emotions. We take a two-pronged approach where we dedicate simultaneous efforts to create awareness and provide support through individual and group counseling sessions.
MENTAL HEALTH IS PRESERVED WEALTH. LET US TAKE A STEP FORWARD AS A SOCIETY
The Samvaad initiative by Project Mumbai which was initiated to reach out to 12 crore residents of Maharashtra, the toll free helpline for counselling with the government of Maharashtra, managed to reach out to over 24 states across India.
While the initiative's attention remained focused mainly on Mumbai, we also realized that communities across Maharashtra were facing acute challenges too.
 This is when Project Mumbai decided to extend the plan and make it a much more larger one.
Team Project Mumbai hopes each one of you is safe and healthy. The second wave of the pandemic has shaken us all to our core and yet we continued to be resilient, kind to ourselves and compassionate towards others. From March to May 2021 you sent us ways of coping with your helplessness, anger, grief, sadness, uncertainties…. This compilation serves as a source of strength for the entire community. May being mental health awareness month, we present to you #emotionexpress 2.0 our mental health guide for the community by the community.
Young Minds For Mental Health 2.0
#Adolescentmentalhealth has been a passion space for Project Mumbai. Our adolescent mental health initiative – #TheSmilingSchoolsProject, already in its second year, reaches out to approx. 10,000 adolescents across the #MumbaiMetropolitanRegion. Since the lockdown has affected the #studentadolescentcommunity so much with all the #uncertainties around exams, school ending, beginning of college, searching for jobs/internships, and navigating through one's emotions, we thought it would help to have a mental health safe space for youth
Summer mental health Program
Hi young folks! 🥁
This summer, the mental health team of Project Mumbai brings to you 6 sessions program to help you get back to offline learning with ease and to help you cope with stressful social situations.
All the sessions will be taken by trained experienced mental health professionals.
You can send in your registrations at info@projectmumbai.org by latest 8th May'22.
The program is for adolescents between the ages of 14 to 16.
Start date- 10th May
End date- 5th June
Timings- 4 pm to 5 pm, once a week
Mode- online
Fee- Free
The mental health team of Project Mumbai runs several such emotional well-being initiatives for various communities like prison, school stakeholders, geriatric population and working adults. For adolescents, this is our 4th summer program through the years follower by young minds and emotion express.
Come aboard on the the emotion wellness train for the summer!🚂😁
Mental Health Newsletter