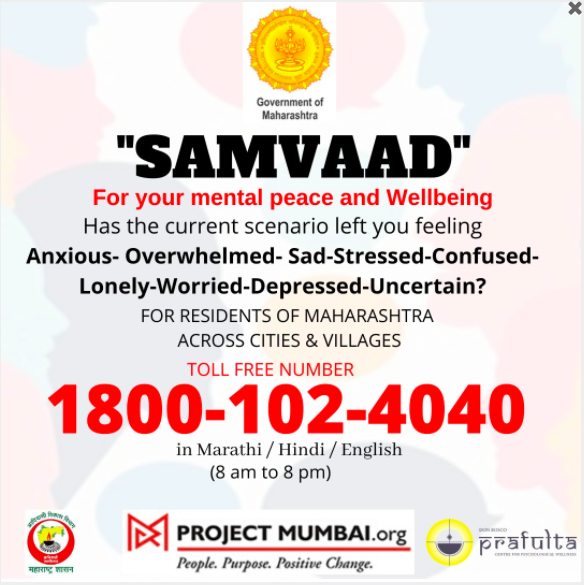 Mental health is preserved wealth. Let us take a step forward as a society
The Samvaad initiative by Project Mumbai which was initiated to reach out to 12 crore residents of Maharashtra, the toll free helpline for counselling with the government of Maharashtra, managed to reach out to over 24 states across India.
While the initiative's attention remained focused mainly on Mumbai, we also realized that communities across Maharashtra were facing acute challenges too.
 This is when Project Mumbai decided to extend the plan and make it a much more larger one.
 Project Mumbai launched a first of its kind mental health covid toll free helpline for the 13 crore  residents across Maharashtra to help them take care of their mental health concerns. This initiative was held in partnership with the government of Maharashtra (tribal development department).
We are getting an average of 350 calls per day and there are 35 trained counsellors attending to mental health concerns. The project Mumbai team attended over 4000 calls from 24 states across India, in just two months.
Project Mumbai is a registered charitable trust under Mumbai Public Trusts Act, 1950. It is a platform of collaboration for ideas and solutions from individuals to institutions.Volunteering by individual and corporate citizens will be an integral part of every project we undertake