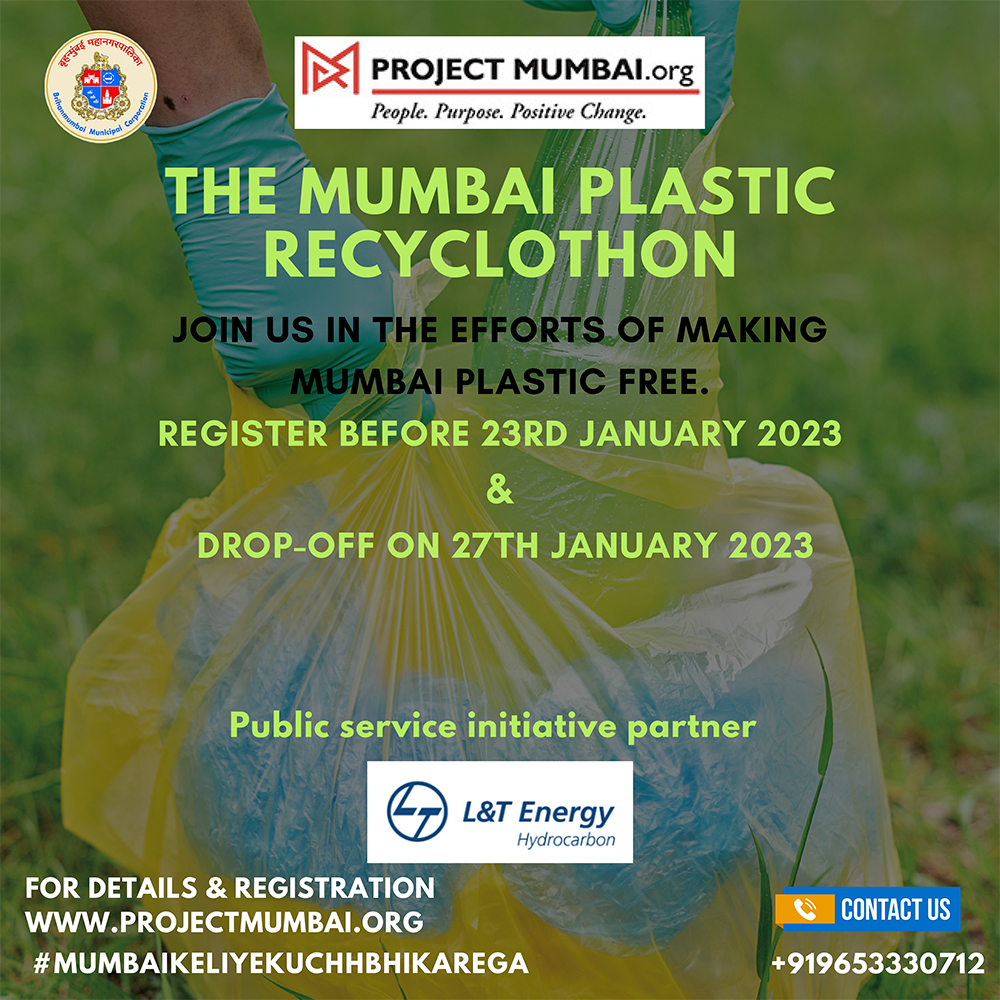 THE MUMBAI PLASTIC RECYCLOTHON
(Happy and Healthy New year !!!! Let's Build a strong commitment for segregating and recycling Plastic waste.
With all your efforts, Last year we safeguarded the landfills and oceans from 20 tons of plastic waste. Plastic waste donated by citizens went for recycling and got converted into 100 benches that were given back for City amenities.
Come join us in the efforts of making Mumbai cleaner and Greener. Pledge to REDUCE and RECYCLE Plastic. Share your experience on your social media and with your friends, encourage everyone in building a community that is more responsive to environment safety.)
Jallosh: Clean Coasts--Protecting Mumbai's Water Bodies Is Back! 21st January 2023
Why Don't You Join Our Team Of Champion Volunteers And Help Clean Mumbai's Beaches Of The Plastic Waste? You Just Have To Choose One Location. Two Hours And Three Friends To Join You. And Four, Click A Selfie And Post It To Us.
We Will Give You The Gloves.
We Give You The Plan Of Action.
We Help You Segregate The Plastic.
We Recycle The Plastic Into Amenities For The City–From Benches, To Pencil Boxes To Garbage Bins. Project Mumbai Would Like To Amplify Your Work And Present You With A Certificate Of Participation As A Coastal Clean Up Champ.
You Can Join As An Individual, A Team Of Friends Or Get Your Institution To Join In.
What are you waiting for?
Join us on 21st January 2023 for the Clean-up drives on 8 different locations. You get to choose.
Will it take a long time?
Ten minutes to register online. That's it. But what you go back with is a bagful of memories. And feeling happier that YOU were among those who has helped this city become environmentally richer. The best part is, you can choose your day, time and place. No hard and fast compulsion either. Do you know that Jallosh is now also part of the Limca Book of Records-edition 2020–it finds mention as one of the largest public-private-people -led initiatives across India for such a cause. Join us as individuals, as families or as groups of friends. Age is not a barrier. We just need your passion.
Mumbai Ke Liye Kuchh Bhi Karega. register on www.projectmumbai.org
Your time to register starts now. Well, or anytime you wish to.
HARITA – GREEN FELLOWSHIP
Harita – The Green Footprint Fellowship brought to you by Project Mumbai in collaboration with Ministry of Mumbai's magic with the MCGM is back.
The objective of the fellowship is to build awareness and consensus towards the city's greenery and to create a community of caretakers.
Project Mumbai in partnership with the government of Maharashtra, Department of Environment and climate change, brought together a gathering of influencers across the spectrum who spent quality time to present a result oriented, time bound environment action plan for Mumbai, the Mumbai Metropolitan Region (MMR) and Maharashtra.
National Environmental Engineering Research Institute (NEERI) and PwC were the knowledge partners for this historic decisive gathering.
The uniqueness of this gathering was that in Mumbai and Maharashtra's Gen next, students between 14 to 21 were invited to help shape this policy which would help to understand how we should be dealing with our environment – land, water an air.
This was done through a hugely interactive 'Ideas for action' essay contest across languages and was judged by an eminent set of credible names