THE MUMBAI PLASTIC RECYCLOTHON
Come JOIN US in the efforts of making Mumbai cleaner and Greener and plastic-waste free.
Pledge to REDUCE and RECYCLE Plastic.
With all your efforts, Last year we safeguarded the landfills and oceans from 20 tons of plastic waste. Plastic waste donated by citizens went for recycling and got converted into 100 benches that were given back for city amenities.

Plastic Recyclothon drives are conducted every month. Segregate and store your plastic waste and donate it to the nearest drop location on the specified day. You Donate, We Collect, and We Recycle. Simple!!
Let's build a strong commitment towards segregating and recycling Plastic waste. Also, share your experience on your social media and with your friends to encourage everyone, in building a community that is more responsive to environment safety.
Jallosh: Clean Coasts--Protecting Mumbai's Water Bodies Is Back! 30th September 2023
Sustainable celebration with Project Mumbai
Biggest clean up post Ganpati celebration on Mumbai's Beaches and water bodies.
Why Don't You Join Our Team Of Champion Volunteers And Help Clean Mumbai's Beaches Of The Plastic Waste?
You Just Have To Choose One Location. Two Hours And Three Friends To Join You. And Four, Click A Selfie And Post It To Us.
We Will Give You The Gloves.
We Give You The Plan Of Action.
We Help You Segregate The Plastic.
We Recycle The Plastic Into Amenities For The City–From Benches, To Pencil Boxes To Garbage Bins. Project Mumbai Would Like To Amplify Your Work And Present You With A Certificate Of Participation As A Coastal Clean Up Champ.
You Can Join As An Individual, A Team Of Friends Or Get Your Institution To Join In.
As we have World Environment Day is approaching, We would want you to join us on 30th September 2023 to keep our water bodies clean.
2023 for the Clean-up drives on 6 different locations. You get to choose.
Will it take a long time?
Ten minutes to register online. That's it. But what you go back with is a bagful of memories. And feeling happier that YOU were among those who has helped this city become environmentally richer. The best part is, you can choose your day, time and place. No hard and fast compulsion either. Do you know that Jallosh is now also part of the Limca Book of Records-edition 2020–it finds mention as one of the largest public-private-people -led initiatives across India for such a cause. Join us as individuals, as families or as groups of friends. Age is not a barrier. We just need your passion.
Mumbai Ke Liye Kuchh Bhi Karega. register on www.projectmumbai.org
Your time to register starts now. Well, or anytime you wish to.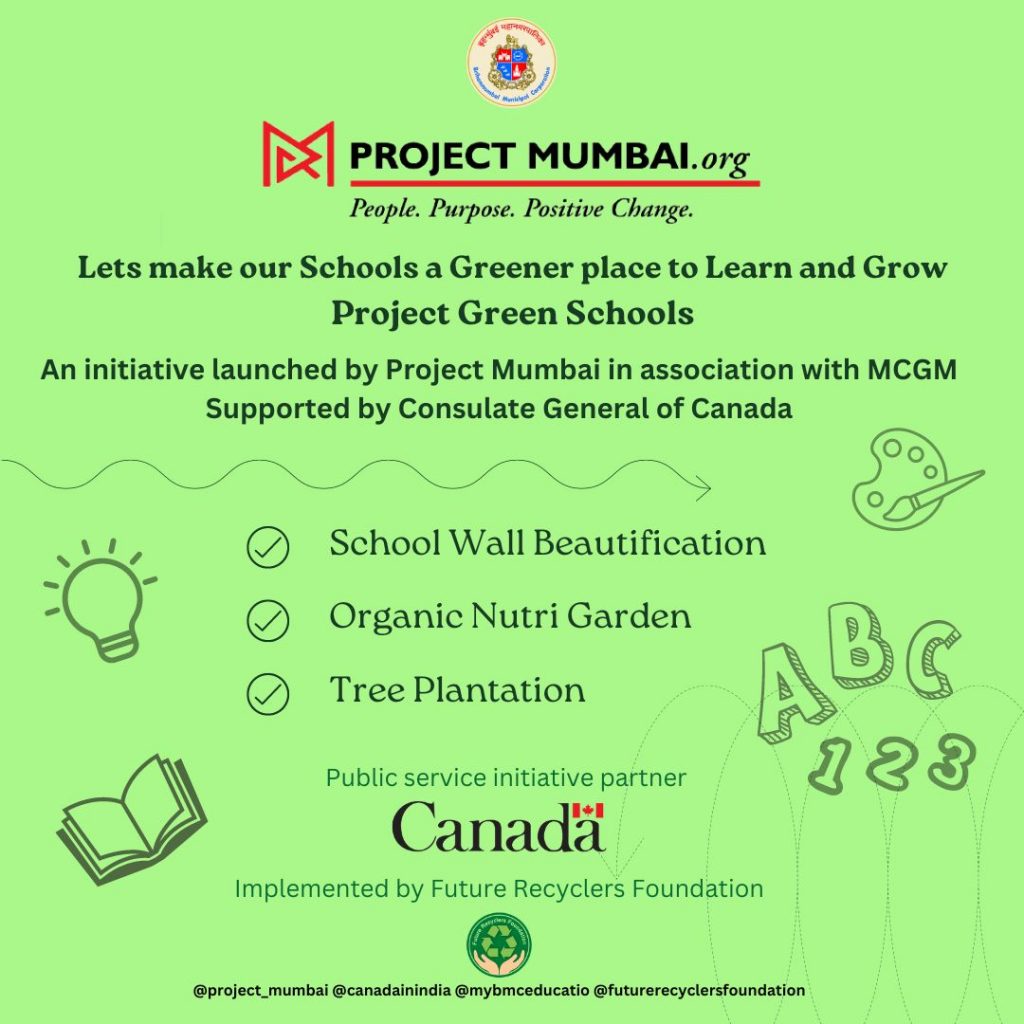 Project Green School, an initiative by Project Mumbai aims to engage school administrators, staff, parents & most importantly students to engage in environmental activities like growing their own food in organic garden & planting trees in their school campus.
We have also taken on the task to beautify the walls of the schools so that the students spend their time at a safe, energizing & attractive learning environment.
With the help of the BMC Education department, we have started activities in 2 BMC schools namely MPS LK Waghji Cambridge Matunga & Nadkarni Park Marathi School, Wadala.
The Matunga school has been adorned with a wall painting of Buckingham Palace depicting traditional ceremony of Change of Guard along with planting of native Indian trees in their school ground.
We spoke to the students, teachers & parents about the important role trees play to provide oxygen to the environment & make the air quality better.
We have revived the oldest form of indigenous art on the walls of Nadkarni Park Marathi School by creating Warli wall artwork. The painting is the most ancient form of art talking about the tribal way of life through folklores & geometric figures made from lines, dots, triangles & circles. The students have developed a keen interest in art & have developed a curiosity in getting to know the origins of the art.
An organic nutri-garden has been established in both the schools, by far the best learning experience for students outside the classroom.
Children have, very enthusiastically, helped to set up the garden by setting up the garden beds, adding soil, planting seeds & watering them. This will motivate them to protect the environment as they grow older.

We are grateful to High Commission of Canada in India for supporting us in this endeavour.
HARITA – GREEN FELLOWSHIP
Harita – The Green Footprint Fellowship brought to you by Project Mumbai in collaboration with Ministry of Mumbai's magic with the MCGM is back.
The objective of the fellowship is to build awareness and consensus towards the city's greenery and to create a community of caretakers.
Project Mumbai in partnership with the government of Maharashtra, Department of Environment and climate change, brought together a gathering of influencers across the spectrum who spent quality time to present a result oriented, time bound environment action plan for Mumbai, the Mumbai Metropolitan Region (MMR) and Maharashtra.
National Environmental Engineering Research Institute (NEERI) and PwC were the knowledge partners for this historic decisive gathering.
The uniqueness of this gathering was that in Mumbai and Maharashtra's Gen next, students between 14 to 21 were invited to help shape this policy which would help to understand how we should be dealing with our environment – land, water an air.
This was done through a hugely interactive 'Ideas for action' essay contest across languages and was judged by an eminent set of credible names