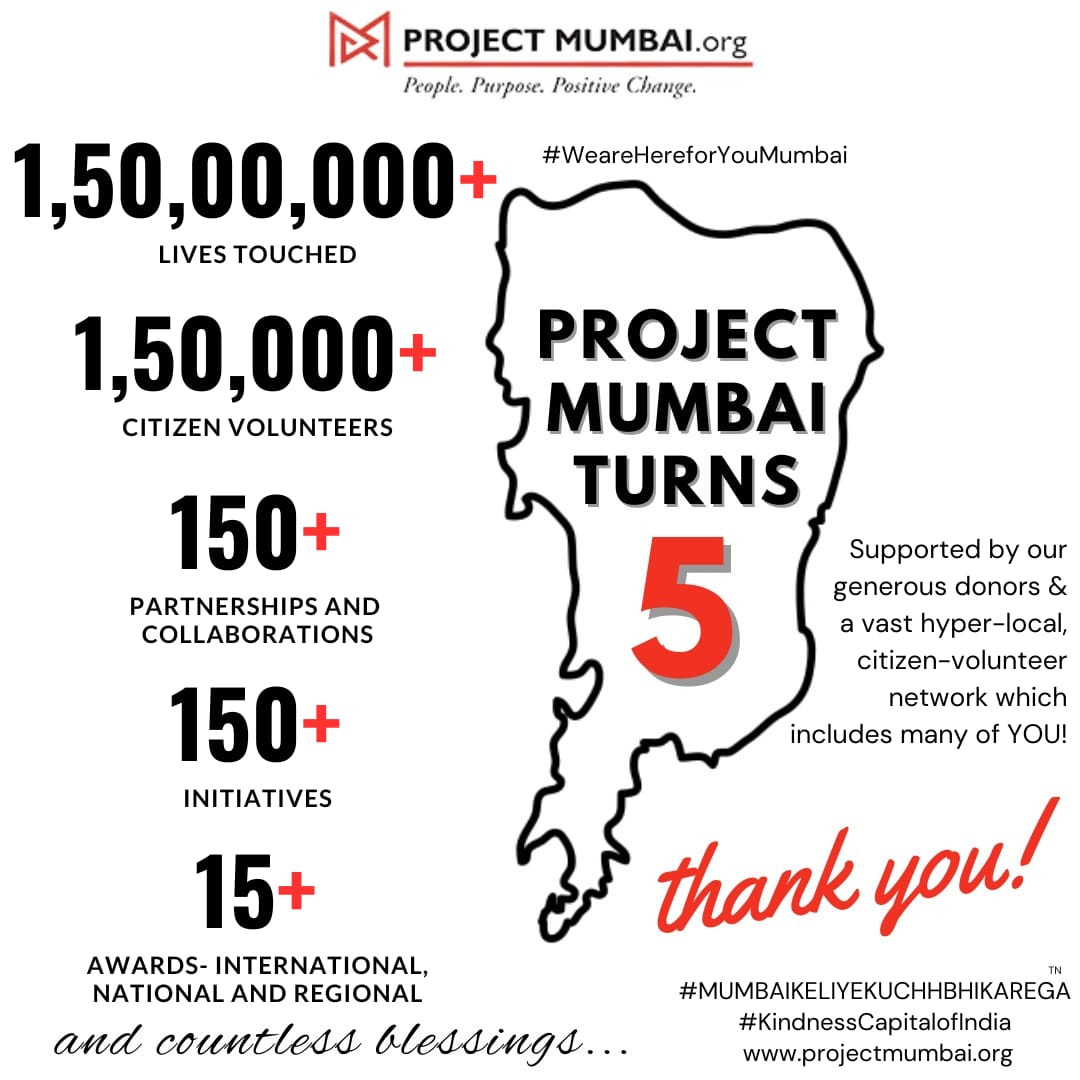 A BIG THANK YOU TO ALL OUR FELLOW TRAVELLERS !
We dreamed of creating an organization that works with citizens and for citizens, and thus began our journey in September 2018.
For a city and its people who were running low on patience and trust in public institutions, we set out to create 'Project Mumbai', an action-driven initiative that was founded on the premise that this endeavour is going to be 'HERE FOR YOU'.
Modelled on the idea of a Public-Private-People partnership, we took our first steps by launching a navigation system to aid families visiting their ailing relatives in one of Mumbai's largest municipal hospitals. This was followed by sustained efforts in healthcare and the environment. With The Smiling Schools Project (TSSP) on Adolescent Mental Health and The Mumbai Plastic Recyclothon for environment, our baby steps have resulted in making a giant impact.
To give you a sense of the scale, TSSP works now in over a hundred schools benefiting thousands of children, apart from our team conducting counselling in prisons and for the Mumbai Police.The Mumbai Plastic Recyclothon initiative is spread across Mumbai. In fact, the Limca Book of Records 2020 has acknowledged this as the country's largest citizen-led plastic recycling initiative.
We have, step by step, shown citizens and our city: We are Here for You, Mumbai!
The COVID -19 pandemic was a challenging time for everyone. We converted it into an opportunity to be of better support to Mumbai and Mumbaikars. We co-founded KhaanaChahiye, a nutrition support initiative. Through this platform we reached out to over 75 lakh people. The United Nations acknowledged the magnitude of our contribution with the SDG award. Our reach was vast, going from making food available to migrants and seniors living alone to providing vaccines to the homebound, the bedridden and the inmates of prisons and mental rehabilitation institutions.
We extended and at times over-extended ourselves, by making medical and healthcare accessible to the disadvantaged across Maharashtra, by sourcing digital educational aids for children in need of them and importantly, by ensuring that the schooling of those who lost their parents to Covid was uninterrupted. Our constant endeavor, year on year, was to convey our message: We are Here for You, Mumbai! We spoke through action, even as we charted new territories with sporting events for the differently abled and new initiatives like mapping roads or pledging to donate organs.
We stayed committed to the belief: We are Here for You, Mumbai!
Spurred on by the spirit of citizen champions, Project Mumbai has worked every day and every year to build a resilient Mumbai since 2018. To our volunteers who beautified walls and streets, artists who helped us decorate railway stations recognizing Covid heroes, healthcare workers and educators who tirelessly helped vaccinating citizens, our personnel in uniform — especially police and fire safety, with whom we have created multiple sustainability projects — and the civic staff who have been enablers in several impact programs, we wish to restate: We are Here for You, Mumbai!
To our partners, donors, advisors and mentors, whose wisdom and blessings  have been instrumental in helping us grow in strength, every single day of these five years, we promise you: We are Here for You!
Along this journey, we are privileged to have touched over 1.5 crore plus lives. Created hundreds of collaborations through scores of high impact initiatives. It gives us great pride in accepting the 18 and more awards and recognitions–international and national–which have come our way. All this reiterates that yes, We are Here for You!
As we embark on the next five years, Project Mumbai will continue on its path to make this city, a city of champions and volunteers.
We welcome you to be a part of our journey. Board our Local: Project Mumbai, as fellow travellers, as we work together to make this city known for its compassion and for being the Country's Kindness Capital.
For all those who have walked and continue being in step with us, thank you for being part of the team that always says: We are Here for You, Mumbai!
Happy birthday — and a happy High-Five to all of us.