PROJECT MUMBAI FOR MUNICIPAL SCHOOL CHILDREN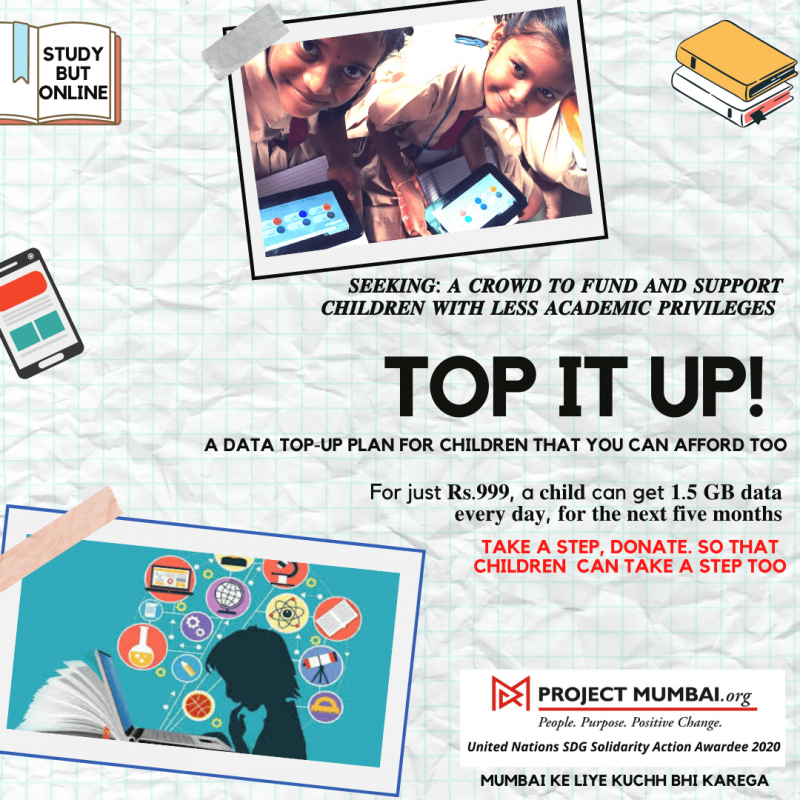 The pandemic has impacted one and all. It continues to do so. Among the worst impacted are children, especially those with lesser privileges, undergoing digital education with barely one hand set shared in the family.
There are 97202 children studying in Mumbai Municipal Corporation schools who have a phone/handset but cannot afford the data plans. You can be the guardian angel for at least one such child to see the child through the five remaining crucial months of this academic year–from November to March 31, 2021.
Project Mumbai has partnered with the MCGM (Mumbai Municipal Corporation) to support children who need data plan support.The money you donate will be converted into data top up for the next five months for the child, through the service provider.
At the start of every month. So that no child gets deprived of digital education for absence of data in his phone.
You can simply sponsor the data plan for one child, be generous to take care of an entire classroom of approximately 50 children or an entire school in your area.
THE TIME IS NOW.
Donate and support education of underprivileged children to complete this academic year on: