REDISCOVERING AND MAPPING MUMBAI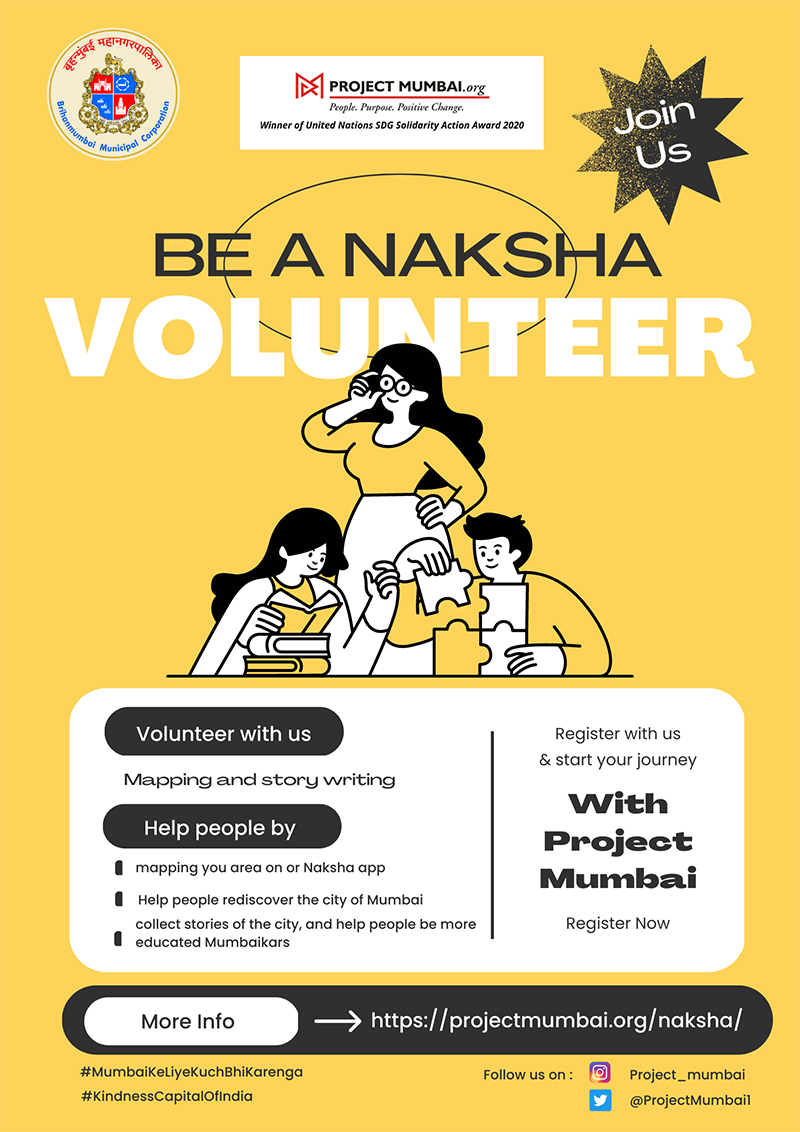 Become a Naksha Volunteer
Want to put your street smarts to good use?
Are you keen observer and have a passion for your city?
Join us to be a part of Project Naksha, as we try to capture the city, as it is. To help people navigate this behemoth city and learn about those honoured on the names of every street, road and gully.
You can do this on your own time, with the help of just one app. You can even create your own teams for mapping!
You will be required to enter the data in real time, exactly like filling out a form.
You can choose the ward according to your convenience and fill in information as an when you can.
Our aim is to map one road at a time till a larger picture forms.
Ever wondered what's the significance behind the name which adorns the signboard at the beginning of your lane?
Project Mumbai has launched one of the biggest and largest mapping initiatives of Mumbai's roads. And what is on these roads. Including Hospitals, Educational institutions, pharmacies, and even Police stations. A collaborative action plan aims at ensuring every main road, every 'gully' gets mapped and its history recorded. A QR Code will help you navigate this further.
The MCGM, the Mumbai Police and the Mumbai University have joined hands with Project Mumbai to make this happen.
YOU CAN BE PART OF THIS INITIATIVE.
Project Mumbai's initiative is to first identify every road, source the history of the person of prominence who is featured on the sign board, and feature their contribution on a digital platform.
Additionally, the effort will be to provide details of other civic requirements of importance, which are the police station locations, addresses, numbers, and subsequently hospitals, educational institutions etc, on the map.
The next is to QR code the sign boards which will be the enabler for citizens to be able to digitally track the locations with ease.
And lastly, but most critically, ensure that the locations are all geo-tagged so that every citizen can not only benefit from the location, but also the points of interest at the click of a button. 
Another interesting aspect that the Project Mumbai team plans to add is that every time a person clicks on the road sign and name, he/she will get to see which police station or jurisdiction this road comes under, which will be a huge enabler for citizens when they have to report a crime or any untoward incident. 
The Mumbai Police has agreed to map and share locations of every police chowki and police station across the 94 police stations under Municipal limit, with their contact number etc, with Project Mumbai.
The Mumbai University has officially joined hands with Project Mumbai by offering us an army of 15,000 student volunteers for the data collection exercise.
One of the most prominent and credible history institutions of India has offered its historians to support the process of verification of data. The association will get formalised soon. 
Several other student groups have joined hands to help research and authenticate the data that is being sourced.
The entire collaborative initiative is being led by Project Mumbai.
Project Mumbai is a registered charitable trust under Mumbai Public Trusts Act, 1950. It is a platform of collaboration for ideas and solutions from individuals to institutions.Volunteering by individual and corporate citizens will be an integral part of every project we undertake